About the Artist

Frank has been creating art since childhood. He has studied fine art as part of his college education.
Frank has a passion for animals that is evident in his work. His pet portraits really bring out the personality and spirit of each of his subjects.
Frank's work can be found in collections in Canada, the United States, and Europe.
Frank has lived with at least one companion animal for most of his life. He currently shares his home a Blue and Gold Macaw, a Timneh African Grey parrot, two dogs and two cats.
Testimonials from Clients
Dear Frank:
I just wanted to tell you that my father loved the portrait you painted of his late dog Bummer. He is the wirey-haired mostly grey dog with the different coloured eyes.
Dad and his wife Coreen had Bummer for 15 years. When Coreen saw it, she wiped a tear from her eyes. Dad just held it and looked at it and kept saying: "isn't that something." It was completely unexpected and I don't even know if they realized I had Bummer's photo. Lucky it was a good one.
Again, many thanks for a great job.
Susan
---
She absolutely loves it. She thought is was gorgeous. Thanks again!
Rolly
---
The bottom line, is, and always has been that you have me back my Maggie. And your portraits brought me the joy and happiness and laughter that I thought had died with her. So once, again, and forever, thank you.
Love Jane
---
Frank, I am so pleased with the portraits you made of the two wonderful tuxedo cats; as you know they were gifts for my very good friends, the owners of Rascal & Buddy. They were thrilled with the portraits and they have received many, many compliments from visiting friends and family. You captured Rascal's 'great whiskers' and Buddy's ever 'alert' nature.
Sadly, we lost Rascal recently to a sudden illness and his portrait is a
valued tribute to this very unique and wonderful companion.
Thank you again.....
Cleo
---
Dear Frank,
Just a note to congratulate you on the exquisit painting of our dear friend Klo-ai (commission of the Pekingnese by Sylvie Lyrette). I cannot explain in words, the emotion I felt when I was presented with her painting. You have captured her true essence, especially her eyes that was so full of intelligence and love.
This painting is very very special to both my husband and I as we will always cherish her memories even more with your painting, such life is reflected in it (as if she is still with us).
Thank you for having touched us so much!
---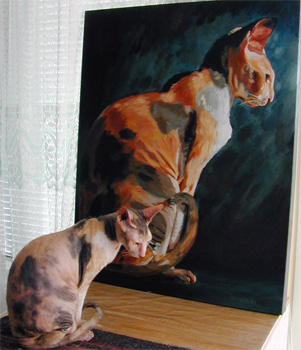 Monet and her portrait